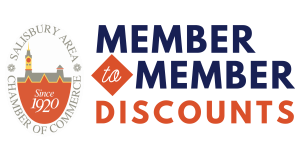 Save Money with Member-To-Member Benefits!
Add your benefit by contacting Sigrid Velez-Nelson, Director of Membership, at svelez@salisburyarea.com or 410-749-0144 x 103.
Participating merchants reserve the right to modify their participation in the Member-to-Member Benefits Program at any time.   Store specials, sale items, and other items may be regularly excluded. Discounts only apply to current SACC Members.