On December 6, 2019, Salisbury Area Chamber of Commerce and BEACON at Salisbury University will present the 2020 Southern Delmarva Economic Forecast at Salisbury University, in the Wicomico Room of the Guerreri Academic Commons.
Registration and breakfast begin at 7:30 a.m. to be followed by the Eastern Shore Delegation Luncheon at 12:30 p.m.
The event is an unparalleled opportunity to hear first-hand what leading regional economists and business leaders believe to be the biggest achievements and challenges ahead. The Chamber's Annual Economic Forecast has been designed to help Delmarva businesses and the community plan for expected economic conditions within the future year ahead. Experts from around the Eastern Shore will gather to analyze the current challenges facing the regional, national and global economy.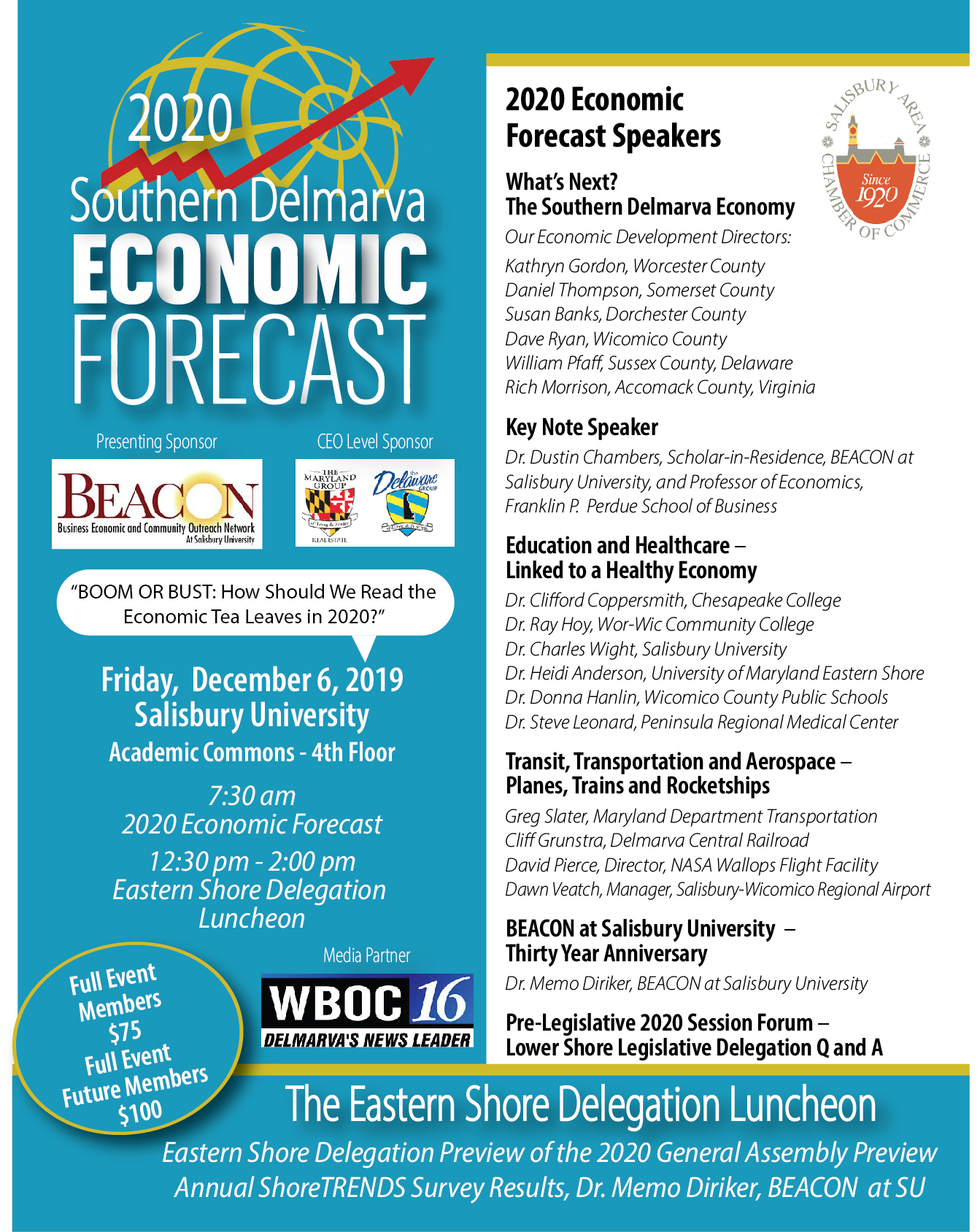 Following the Forecast, the Eastern Shore Delegation Luncheon features the entire Lower Shore Legislative Delegation and their thoughts on what will be the "hot button" issues for the upcoming Maryland General Assembly session. The panel has a moderator overseeing the Q & A.
Full event registration is $75 for members and $100 for future members.
For information or to become a sponsor, contact
The 2020 Southern Delmarva Economic Forecast is sponsored by:
Presented by
BEACON at Salisbury University
CEO Level
Maryland and Delaware Group of Long and Foster
Media Sponsor
WBOC 16 Delmarva's News Leader
Chairman Level
Chesapeake Utilities | Avery Hall Insurance Agency, Inc.
Pohanka Automotive of Salisbury Automotive
Effectv | GSB Media | Vizion Creative
Board Level
BBSI | Perdue | Allen & Shariff | M&T Bank | Gillis Gilkerson | Delmarva Power | Tri-County Council of the Lower Eastern Shore | Shore Transit | The Whiting-Turner Contracting Company | SVN Miller Commercial Real Estate | Cambridge Market Place | Choptank Electric Cooperative | Maryland Small Business Development Center | Peninsula Regional Medical Center | PKS & Company, P.A. | Chaney Enterprises | Delmarva Veteran Builders
Supporter Level
Bank of Delmarva | Bank of America | Davis, Bowen & Friedel, Inc.
Marie Calafiura | W.R. McCain & Associates | State Farm – Greg Reddell Insurance Agency, Inc. | BB&T | Maryland Public Television | ALarm Engineering | Hebron Savings Bank