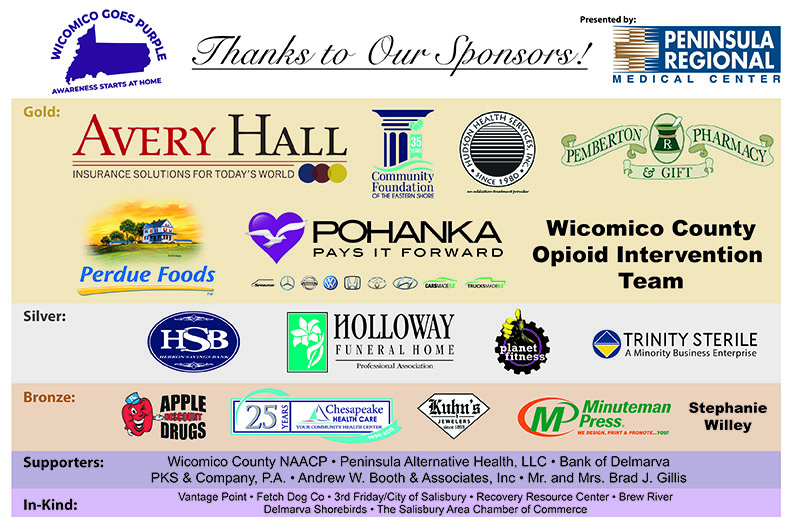 The Salisbury Area Chamber of Commerce, in partnership with the Wicomico County Opioid Intervention Team, and the Community Foundation of the Eastern Shore are launching Wicomico Goes Purple! The mission of this initiative is to encourage conversations around the dangers of substance abuse and encourage both our community and our young citizens to take a stand against this epidemic! Additionally, Wicomico Goes Purple will recognize the accomplishments of individuals currently in recovery and to promote all available recovery services.
Wicomico Goes Purple will kick off at the August 31, 2019 Delmarva Shorebirds game at Shorebirds Stadium. August 31st is Overdose Awareness Day and Hudson Health Services has stepped up to sponsor the post-game fireworks for this kickoff event.
The Salisbury Area Chamber will be hosting the inaugural Wicomico Goes Purple Boat Parade which will be held at Brew River on September 10th. Wicomico County Health Officer Ms. Lori Brewster will be the featured speaker at the September 19th General Membership Luncheon. Ms. Brewster will provide an update on progress being made locally to lower the overdose rates in our community, among other initiatives.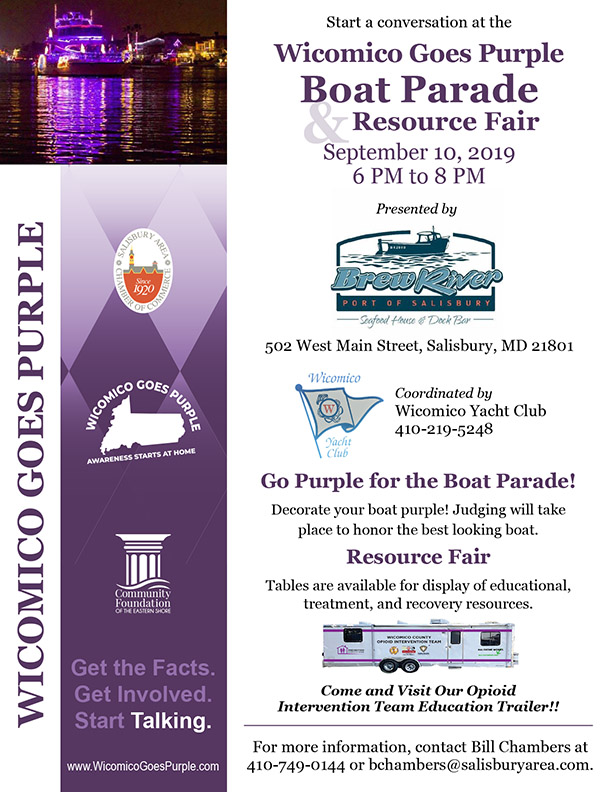 The Chamber and our partners ask that the business and organizational community to step up and
"GO PURPLE"
in the month of September, which is National Recovery Month. We need your business and organization to join the movement! Some of the ways you can join in include:
Sponsor Wicomico Goes Purple! Sponsorship will assist with providing wristbands, T-shirts, banners and items to promote awareness in our community.
GO PURPLE with office and storefront decorations, including purple lighting!
Hand out brochures to your employees, customers and clients to promote awareness of treatment resources in our region.
Be creative!
The opioid crisis has impacted so many of our neighbors. It has ravaged families, businesses and the community. Awareness starts at home and working together we ALL can make a difference! We need you to get on board and join in this effort
For more information go to www.wicomicogoespurple.com.
Wicomico Goes Purple T-Shirts are Here!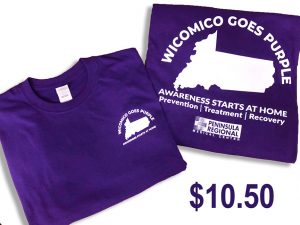 ORDER WICOMICO GOES PURPLE T-SHIRTS