Transform Your Workplace

Disability Inclusion is often overlooked as Diversity. Employees with disabilities tend to:
be good problem solvers
have equal or better safety records
have higher retention rates
create a culture of high workplace morale leading to reduced turnover
On the Eastern Shore of Maryland, the unemployment rate for people with disabilities is two times higher than those without disabilities.
The Eastern Shore Business Leadership Network's vision is to increase the employment rate of people with disabilities and their accessibility to the consumer market on the Delmarva Peninsula.
Contact Information:
Jackie Gast, ESBLN Director – jackie@esbln.org
Cindy Hartigan, Director of Employment Services
Activities and Services
Disability Employment resource – Business to business sharing of employment best practices. View the short testimonial video below to see how we've helped to remove the fear and improve resulting in positive outcomes!
Maryland PROMISE – Maryland is one of six participating sites in this groundbreaking national study, providing services statewide. The PROMISE initiative is intended to improve the provision and coordination services for youth and their families. The services help youth recipients achieve better outcomes, including graduating from high school ready for college and a career, completing post-secondary education and job training, and obtaining competitive employment leading towards financial independence. The information gained from this study may help others better prepare to achieve their education and employment goals in the future. PROMISE is a joint initiative of the U.S. Department of Education, the U.S. Social Security Administration, the U.S. Department of Health and Human Services, and the U.S. Department of Labor. The ESBLN director assists to provide technical assistance to MD PROMISE staff.
Ticket To Work – Contract with Social Security Administration to assist individuals with disabilities to reach financial independence through employment. Since 2013.
Job Development agreement with UNA – Provide job placement services. Since 2014.
Awareness Events – Ability Awareness Day – Raises awareness that people with disabilities can and want to work and give back to their community. Held at the Salisbury Zoo since 2009. See our Events page for more information.
Delmarva Disability Employment Awareness Month/October – Media campaign targeting the business community that focuses on Ability vs disability. Since 1998.
History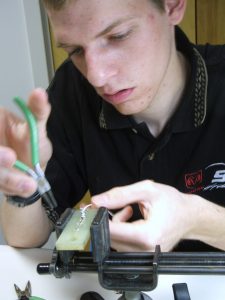 The Eastern Shore BLN evolved from the Lower Shore BLN which was founded in 1998 in Salisbury, MD under the leadership of Harvard Custom Manufacturing, Inc.'s CEO Ed Urban, Paul Rendine, Rendine Financial Services, former Executive Director of Lower Shore Enterprises, Jack Smith, and Harvey Davis, regional manager for the Division of Rehabilitation Services. The LSBLN became a forum for business executives who appreciated the value and effectiveness of workers with disabilities. An award winning, innovative online database was developed to promote the ability of workers with disabilities rather than their disabilities.
During the fall of 2001 the LSBLN expanded to include all the counties on the Delmarva Peninsula and changed its name to Eastern Shore Business Leadership Network. The ESBLN is currently an arm of the Salisbury Area Chamber of Commerce.
For his work, Jack Smith received the Salisbury Area Chamber of Commerce's 2004 Chamber Award. Jack Smith retired at the end of 2004 and is succeeded by Jaqueline (Jackie) Gast, the current director. Jaqueline Gast comes to the chamber with a background in business in both for- profit and not-for-profit businesses. She has a BA in Business Management and a Masters of Business Administration. The ESBLN's many accomplishments and activities continue to promote abilities of job candidates with disabilities though its business, government and supported employment networks.
The Salisbury Chamber acts as the fiscal agent and administrative center for a coalition of Chambers on the Peninsula. The participating Chambers have provided business leaders from their membership to serve on steering committees.
Periodic meetings of representatives from the Chambers assure that regional interests are being served. The Chambers have a combined membership of over 4,000 businesses, individuals and organizations. The United States Business Leadership Network establishes and oversees the structure and integrity of local BLNs.
About Us
Advisory Board Members
Robin Hall, K&L Microwave, Lead ESBLN Employer
Bill Chambers, Salisbury Area Chamber of Commerce
Kiya Safai, Foundation in Human Potential
Mike Tull, Pepsi Bottling Ventures
Maria Waller, Quality Staffing Services
Debbie Abbott, Bank of Delmarva
Jenn Zebley, Walmart
Angie Strouth, Avery Hall Insurance Agency
Mike Whitehill, Consultant
Mitzi Scott, Peninsula Regional Medical Center
Brad Bellacicco, Shore Transit